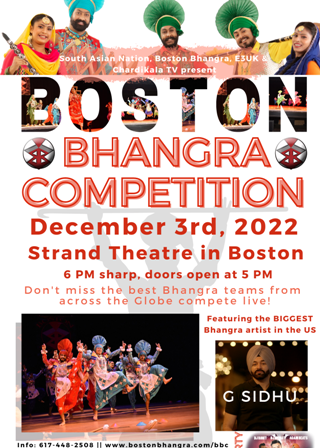 Every year, around this time, Rohit Bhambi would grace our show on Mera Sangeet- this for almost more than a decade. Then the Pandemic hit. Life kind of came to a standstill.
But as Rohit says, Boston Bhangra is back with a bang this year – with all the energy and enthusiasm. So, do save the dates for Boston Bhangra.
Rohit tells about the many teams participating, about the venue, date and time of course – and what are the surprises – he gives out some, and for some — well, that is a surprise.
Do tune – in for the conversation for more information about the event, on 17th November, on our show, Saat Samundar Paar, on MeraSangeet Gold – at 9:00 AM,1:00 PM,5:00 PM, and 9:00 PM – EST. You can also catch the interview on MeraSangeet East at 11:00 AM