Tanwi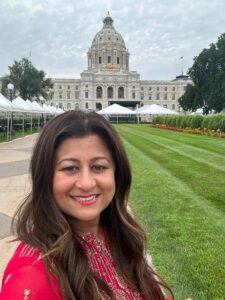 Mookherjee Prigge serves as the President of, the India Association of Minnesota. She started volunteering at a young age for Mother Teresa and Ram Krishna Mission.
A resident of Minnesota for the last 18 years and an IT professional, Tanwi believes in service to others through her profession and volunteer work.
Tanwi enjoys working with children and women in various communities, through her volunteer work, drama/theater/music, and encourages folks to step out of their comfort zone and have fun. She is excited about working with the Indian community and the community at large.
Today, we talk to Tanwi about the India Day Celebrations being organized by the India Association of Minnesota. There are many activities to be a part of – Learn more about these — For details, do tune in for sure today, 12th August, on our Show, Saat Samundar Paar, on MeraSangeet Gold – at 9:00 AM,1:00 PM,5:00 PM, and 9:00 PM – EST. You can also catch the interview on MeraSangeet East at 11:00 AM EST.