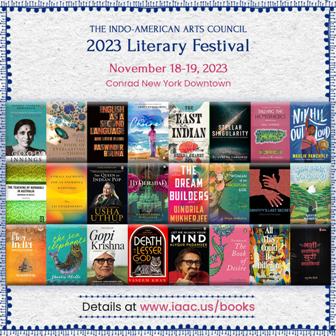 The Indo-American Arts Council (IAAC)Literary Festival 2023, is set to take place on 18th and 19th November at the Conrad New York Downtown. This year's festival is set to be an extraordinary Renaissance Weekend, a celebration of literature, culture, and intellectual discourse.The Literary Festival is FREE to the public. It will be held at the Hotel Conrad New York Downtown.
On the show today with us is IndoAmerican Arts Council 2023 Literary Festival Director, Preethi Urs. She is originally from Bengaluru and is now a proud New Yorker. She credits these two cities for birthing and nurturing her love for literature and the arts. She started her career in public relations where she helped international companies connect with their American counterparts. After completing her Masters in education from Bank Street College of Education, she taught kindergarten and first grade. She and her husband live in Manhattan, where their two children were born and raised.
So do join in the show today – Saat Samundar Paar, on MeraSangeet Gold – at 9:00 AM,1:00 PM,5:00 PM, and 9:00 PM – EST. You can also catch the interview on MeraSangeet East at 11:00 AM EST.
Also, don't miss this extraordinary literary event! For more information and ticket details, visit https://iaac.us/books/