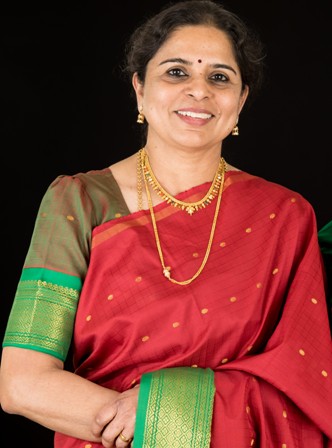 A Plant Geneticist by training and a Principal QA Specialist by profession, Jeyanthi Ghatraju is also the Executive Director at IAGB. She is also the Co-Chair of the Council of Ambassadors for Vision-Aid. The first President of KHMC (Karnatic Hindustani Music Circle), she currently serves as its Treasurer. She was recognized with the US Presidential Service Gold Award with a commendation from President Obama and President Trump in 2013 and 2019 respectively.
Jeyanthi is a Bharatanatyam dancer, choreographer and teacher from Westford, MA, with a mission to perform for charity. Along with her students, she has performed regularly at several nursing homes and senior centers in New England and Canada. She has conducted 18 student arangetrams (debut) so far and more than 30 students have graduated with the Certificate in Performing Arts, that she offers through her affiliation with Alagappa Performing Arts Academy (Alagappa University, Karaikudi, India). Her outreach assignments include special projects on Indian dance and Bharatanatyam for Rotary International, museums, libraries and churches in New England and Canada. She was recognized by the House of Representatives and the State Senate for 25 years of service through dance in 2019.
Jeyanthi has choreographed several dance productions over the years and enjoys working on collaborative projects with artists from India and the New England dancers. She was a MA cultural council grantee in 2019 and 2020.
Do listen in to this conversation with Jeyanthi , about the IAGB India Day Event – this Saturday, 24th July , on our Hindi Radio Show, Chat and Chai, MeraSangeet Gold at 7:00 AM , 11:00 AM , 1:00 PM , 3:00 PM , 5:00 PM , 7:00 PM , 9:00 PM and 11:00 PM – EST.