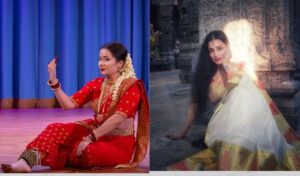 Sruthi Mohan is the Founder and Creative Director of Tat Tvam Asi, a boutique art organization in Austin, Texas, created specifically to curate and present works of internationally acclaimed Indian classical dancers touring the US.  An active and passionate community organizer, with more than a decade of organizational experience, she currently serves the Austin Hindu Temple in the dual capacities of Trustee and as Cultural Committee Chair. She has been instrumental in creating various cultural outreach initiatives that aim to showcase the spiritual beauty of Indian classical dance and other temple arts. 
Shivani Badgi is an Indian American dancer, teacher, and choreographer. She began her training at age five under Guru Padma Khanna, senior disciple of Nataraj Gopi Krishnaji, in Kathak, Lavani, and Bollywood. She learned Ballet, Jazz, and Contemporary at Joffrey Ballet School, Mason Gross School of Arts, and Broadway Dance Center during her college years. Her career continued with performances at Lincoln Center, Carnegie Hall, Consulate General of India, United Nations, Theater for the New City, Longwood Gardens, and soon at Florida's Disney World. She is now the Artistic Director/Founder of The Gurukul Performing Arts in NJ and NYC.
On the show, we have with us Sruthi Mohan, who is also senior curator at the festival and we have Shivani Badgi, who is performing at the festival. Tune – in for sure, this Thursday, 21st September on our Show, Saat Samundar Paar, on MeraSangeet Gold – at 9:00 AM,1:00 PM,5:00 PM, and 9:00 PM – EST. You can also catch the interview on MeraSangeet East at 11:00 AM EST.