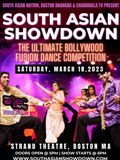 14 Years of South Asian Showdown – a long journey it has been – and we talk to Rohit Bhambi about the journey, the event.
To give you a peep – teams from all over North America will compete to be crowned the Showdown champion. This year's competition will be taking place on Saturday, March 18th, 2023 at the newly renovated Strand Theatre in Boston, MA.
Learn more about the teams and the event. To know how to be part of the event, for tickets – do listen in to the conversation for sure.Do tune – in, today as well, 14th March, on our Show, today, on MeraSangeet Gold at 2:00 PM EST and MeraSangeet USA at 5:00 PM – EST.