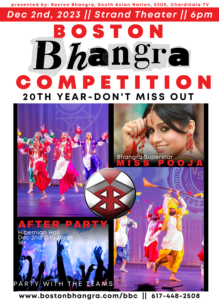 Every year, around this time, Rohit Bhambi graces our show on Mera Sangeet- this for almost more than a decade – barring the pandemic years – and thereafter as Rohit says, Boston Bhangra is back with a bang!!
This year as well, like the year gone by – with all the energy and enthusiasm. So, do save the dates for Boston Bhangra.
Rohit tells about the many teams participating, about the venue, about the special guest, the date and time, and of course the contacts to reach for the tickets.
This will be the 20th year of BostoN Bhangra. This year's competition will be taking place on Saturday, December 2nd, 2023 at the historic Strand Theatre in Boston. If you have any questions or for more details, do visit https://bostonbhangra.com/bbc2023/
So incase you missed this earlier, do tune – in for the conversation for more information about the event, today, on MeraSangeet Gold at 2:00 PM EST and on MeraSangeet USA at 5:00 PM – EST