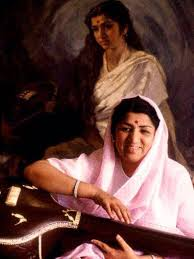 Lata Mangeshkar, a name so familiar, so much our own, a name which reached the greatest of heights, attained so much glory and fame, and yet remained so humble, so grounded. Yes, I could feel all this and the simplicity of this great personality, India's greatest singer and a legend…
We all have heard that Pt. Jawaharlal Nehru had cried when he heard Lata Mangeshkar sing, "Ae Mere Watan ke logo", when and where did this happen, Lata didi shared those memorable moments. She took us back to the days when she worked along with other legendary singers– Mohd Rafi, Kishore Kumar, Mukesh…some nostalgic moments, some which brought a smile, and all through this, you could feel her simplicity and her greatness.
This was way back, it seems, but this conversation will always remain fresh – showing the simplicity of a person who attained the greatest of heights – do listen – in, for the rebroadcast, with the Nightingale of India, the Queen of Melody, on our show, From our Archives, today, 29th September, on MeraSangeet Gold at 2:00 PM EST and on MeraSangeet USA at 5:00 PM – EST.