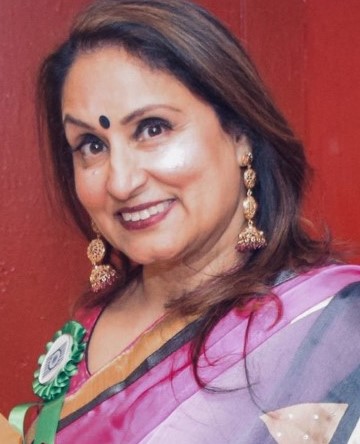 Lata Rao is the Secretary of IAGB. The current term Is her fourth, on the IAGB Executive Team. While she lends her helping hand In every activity organized By IAGB, she takes lead on the two Mega Annual Cultural Events – The Republic Day and the India Day Celebrations.
Lata is a long time community leader in the New England region. She has also been a fierce advocate against Domestic Violence and has actively worked as a Volunteer with SAHELI for more than 15 years. She now advocates for this cause independently.
She has been an Entrepreneur for over 25 Years. In her own words, she says, " I am an entrepreneur of sorts and deal in designer clothes". She was also a flight attendant with Air India, way back in the 80s.
So, today, Lata tells us about her role with IAGB, about the venue of the India Day Event, about the various cultural activities, the dance band, as well as the food stalls. She also talks about the joy of flying, of her job which she feels was just tailor made for her, of staying in beautiful locations around the globe, and much more.
So yes, this conversation is a must listen one – catch it for sure, this Thursday, 5th August, on our Hindi Radio Show, Chat and Chai, MeraSangeet Gold at 7:00 AM , 11:00 AM , 1:00 PM , 3:00 PM , 5:00 PM , 7:00 PM , 9:00 PM and 11:00 PM – EST.