Padm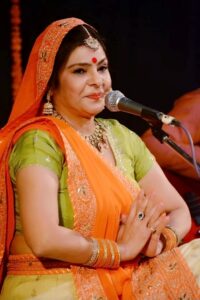 a Shri Malini Awasthi is an Indian folk singer. She sings in Bhojpuri, Awadhi, and Hindi, she also presents Thumri and Kajri. The Government of India awarded her the civilian honor of the Padma Shri in 2016. She is known for her contribution to Bhojpuri music.
Malini Awasthi is a regular performer at the popular classical music festival, Jahan-e-Khusrau. She has a high pitch voice and is popular for the vendition of thumri, Thaare Raho Baanke Shyam. She participated in Imagine's Junoon and has lent her beautiful voice to many films as well.
On the show today, we go back with Malini Awasthi on her journey – we also talk about her much-awaited performance at the Festival of Indian Music 2023, presented by the Indo-American Arts Council https://iaac.us/festival-of-indian-music-2023/– this and much more.
Do tune – in for sure, today, 8th August, on our Show, Saat Samundar Paar, on MeraSangeet Gold – at 9:00 AM,1:00 PM,5:00 PM, and 9:00 PM – EST. You can also catch the interview on MeraSangeet East at 11:00 AM EST.