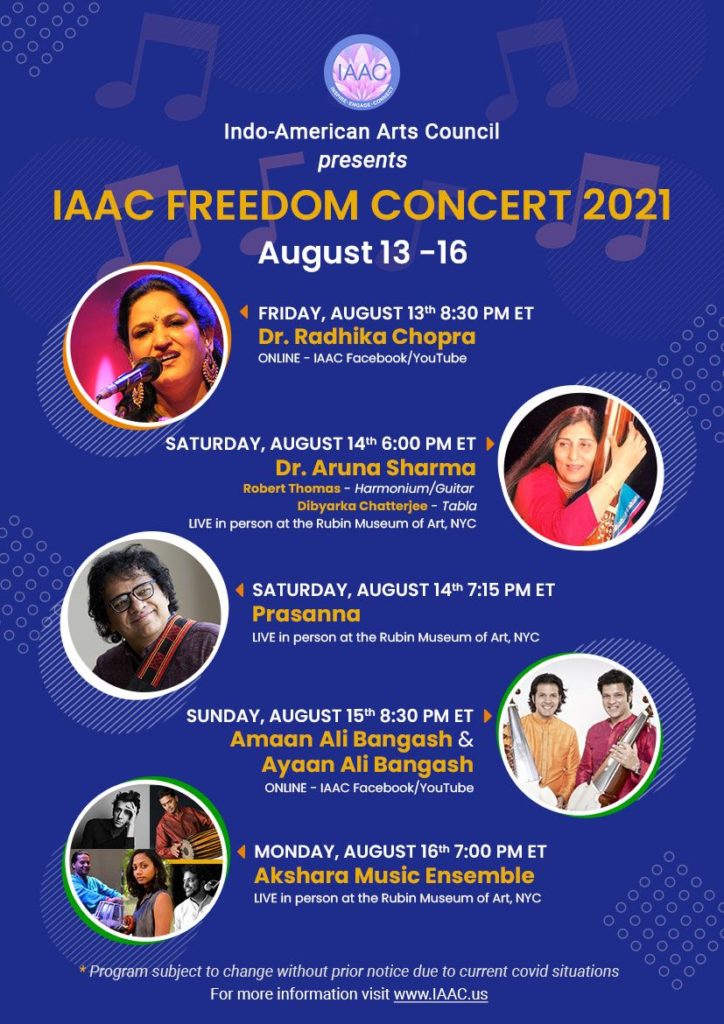 Guitar Prasanna -An engineering graduate from Indian Institute of Technology, a composer for award winning films, an internationally acclaimed guitarist in contemporary Jazz, Rock and Blues, a Magna-Cum-Laude graduate of Berklee College of music. Dr. Radhika Chopra – Started learning music at a very young age from Pt. J.R.Sharma and started performing on stage and for All India Radio, Jammu. Dr. Aruna Sharma – Started learning classical music under the guidance of Ustad (Maestro) Jamal Khan, a Royal Musician from the court of Baroda. 
Amaan Ali Bangash – The eldest son and disciple of the Sarod Maestro Amjad Ali Khan and grandson of Haafiz Ali Khan.  He is considered to be one of the finest Sarod players in the world. Ayaan Ali Bangash – The younger son and disciple of the Sarod Maestro Amjad Ali Khan, Ayaan gave his solo debut when he was eight years old and has been performing concerts .
Bala Skandan – Initiated into the Carnatic percussion art of Mridangam, and the violin at age six, Bala Skandan is a classical Indian music polymath. Jay Gandhi – Identified as an outstanding disciple of the world renowned bansuri maestro, Padmavibhushan Pt. Hariprasad Chaurasia, Jay Gandhi initially trained in vocal music under Smt. Kum Kum Sanyal, and later bansuri under Pt. Ronu Majumdar, Pt. Vijay Raghav Rao and Pt. Raghunath Seth.  Amali Premawardhana – Is the Cello Teacher at Primoris Academy and a graduate of the Manhattan School of Music. Max ZT – Lauded as the "Jimi Hendrix of Hammered Dulcimer" by NPR, and a "Force of nature" by New York Music Daily, Max ZT is an innovator of the hammered dulcimer. Shivalik Ghoshal –  Currently, he is a part/member of the Raga Renaissance movement in Brooklyn as part of Brooklyn Raga Massive (BRM) community that is dedicated to promoting Indian Classical/Raga based music throughout the NY area.
For more on the wonderful artists, please do visit https://iaac.us/