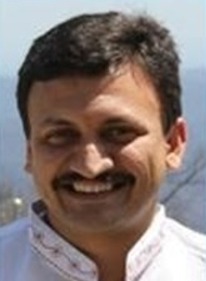 Kinjal Desai is a mindfulness expert and an advanced meditation teacher with the Art of Living Foundation. Over the past 20 years, he has led numerous personal excellence seminars and self-development workshops for the public, students in universities, and professionals in many corporations.
Kinjal was introduced to yoga & meditation in 1995 through the Art of Living Foundation, founded by global peace ambassador and humanitarian leader, Gurudev Sri Sri Ravi Shankar. Seeing the immense personal benefit, and being inspired by its vision for creating a stress-free, violence-free society, he started volunteering for the Foundation. Since then, he has led numerous national programs and community service initiatives over the years. He currently serves Board of Directors of the Foundation.
Kinjal holds a graduate degree in Electrical & Computer Engineering from Rutgers University He currently lives in Seattle, Washington, with his wife and remains passionate toward his career in the wireless mobile industry as well as his volunteer work.
On the show today, we talk about the forthcoming event in Seattle, Washington, about meditation techniques – Kinjal also shares some anecdotes from Gurudev Sri Sri Ravi Shankar's many travels. So, in case you missed it earlier, do join in today, 16th June, on our Show, Saat Samundar Paar, on MeraSangeet Gold – at 9:00AM,1:00 PM,5:00 PM and 9:00 PM – EST. You can also catch the interview on MeraSangeet East at 11:00 AM and 6:00 PM – EST