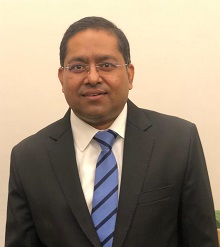 Shri Randhir Jaiswal is a career diplomat. He joined the Indian Foreign Service in 1998. In his over two decades of diplomatic career, he has served in Portugal, Cuba, South Africa and at the Permanent Mission of India in New York.
Shri Jaiswal also served in New Delhi at the Ministry of External Affairs, first as Deputy Secretary looking after India's relations with the United States of America, and then as Joint Secretary managing India's relations with West European countries. In the middle of 2017, he was deputed to serve the President of India as Joint Secretary managing his international relations portfolio.
Shri Randhir Jaiswal is passionate about sports, environment, culture, monuments, old cities and cuisines. He is deeply interested in strategic, sustainable development and public policy issues. He has been part of India's delegation at various Climate Change Conferences and was the lead negotiator for the G-77 countries at the RIO+20 Conference held in Brazil in 2012.
He is married to Dr. Abha Jaiswal, a public health expert. They have two daughters.
We have a wonderful conversation with Shri. Jaiswal – and he has a must hear message for you on the occasion of India's Republic Day – do listen- in for sure, this Wednesday, 26 January , on our Show, Saat samundar Paar, on MeraSangeet Gold  at 9:00AM,1:00 PM,5:00 PM and 9:00 PM – EST. You can also catch the interview on MeraSangeet East at 11:00 AM and 6:00 PM – EST